As I speak with prospective and current clients about their challenges in achieving their short and long-term business goals, the one issue that keeps coming up in every conversation is "I have trouble finding and keeping great employees?" Before COVID the unemployment rate was 3% the lowest in 50 years, and finding employees was a problem. Now that many businesses are "returning to work" they a finding that keeping employees is another growing issue.

The ability to attract, optimize, and retain top talent is a vital component to achieving a company's objectives. Sandy Asch, author of "Excellence at Work–The Six Keys to Inspire Passion in the Workplace", addressed how employers can transform and reward employee performance and offered six things employers can do to become an employer of choice. Asch identified a number of questions companies can ask themselves to determine if their employees view them as an "Employer of Choice".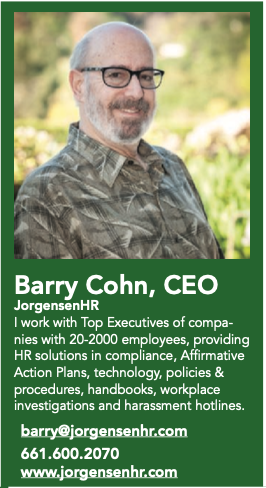 Do your employees love to work for your company and have energy and passion?

Are employees deeply engaged? And realizing their full potential?

Are employees encouraged to contribute and make a difference?

Are employees proud to work for your organization and plan on staying with your company?

Is communication open, honest, positive and future-focused?

Are people proactive and see, own, and act on issues quickly and efficiently?

Are truth telling and risk taking encouraged and rewarded?

Is there a high level of cooperation and collaboration?

Are people respectful and seek to bring out the best in each other?

Do employees trust and respect their managers and feel valued and supported?

Are your leaders trusted and respected?

Are employees regularly rewarded,

recognized for good performance and treated fairly?

Are there opportunities for growth and development?

Is there a healthy work-life balance?

Would your employees recommend your company to their friends as a good place to work?
Most employers would likely find that they are lacking in at least one of these areas. As such, Asch provided six "principles for excellence" that employers can adopt to become an employer of choice.
Use your words wisely

– It is important to communicate with employees with honesty openness, and respect.

Be accountable

– Employers should act proactively and be committed to truth telling, focusing on the question behind the question rather than offering excuses or explanations.

Focus

– By focusing on independent goals, employers can extract the greatest value from the efforts of employees.

Mine the gold

– Employees and managers should strive to bring out the best in their employees, and be committed to collaboration and cooperation.

Strive for balance

– Employees will be vital and energetic at work as a result of a balanced life. Employers should therefore give their employees the opportunity to refresh and renew.

Lighten up

– Perhaps the most difficult of the six principles, employees should not take themselves so seriously. Employers and their employees should seek to bring laughter and joy to the workplace and look for opportunities to make other people's day.
At JorgensenHR we help companies become "Employers of Choice". Our passion is to help companies recruit and retain employees, maximize the return on their HR, people and employee benefits investment, and reach those HR goals and objectives for the fewest dollars spent.

Above all we believe that all employers should be Keeping the HUMAN in Human Resources!